What Our Customers Say
Below are just some of the many positive comments we have received from our customers on completion of projects. There's lots of comments to view, please swipe left or right to move through them. If you are considering booking us for a project and would like any additional references, please get in touch.
1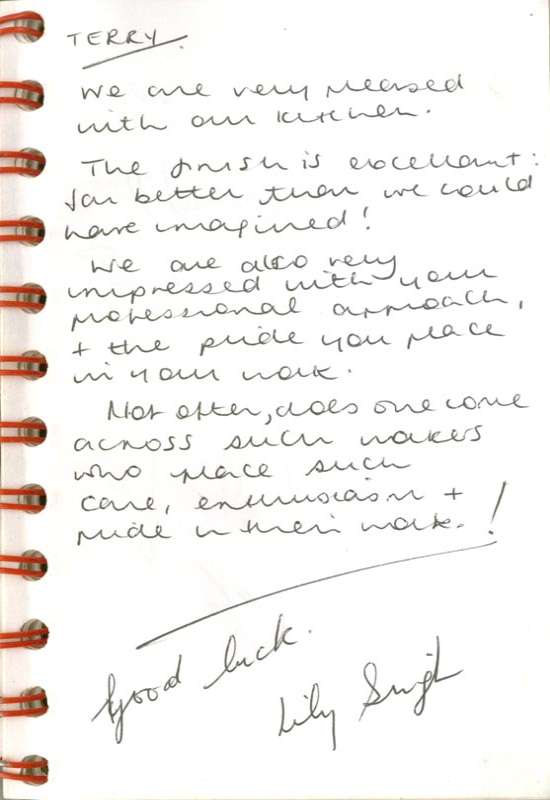 "We are very pleased with our kitchen. The finish is excellent and better than we could have imagined! We are also very impressed with your professional approach and the pride you place in your work.
Not often does one come across such workers who place such care, enthusiasm and pride in their work!"
Lily Swift
2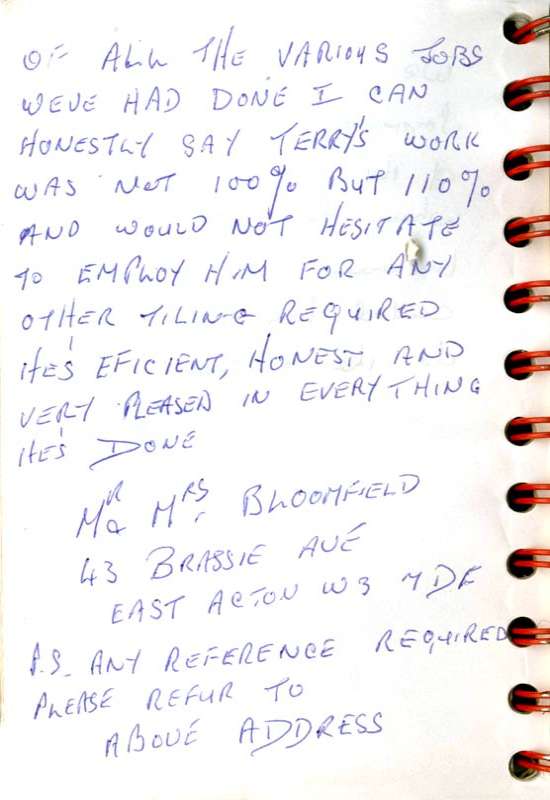 "Of all the various jobs we've had done I can honestly say Terry's work was not 100% but 110% and would not hesitate to employ him for any other tiling required.
He's efficient, honest and very pleased in everything he's done."
Mr & Mrs Bloomfield
3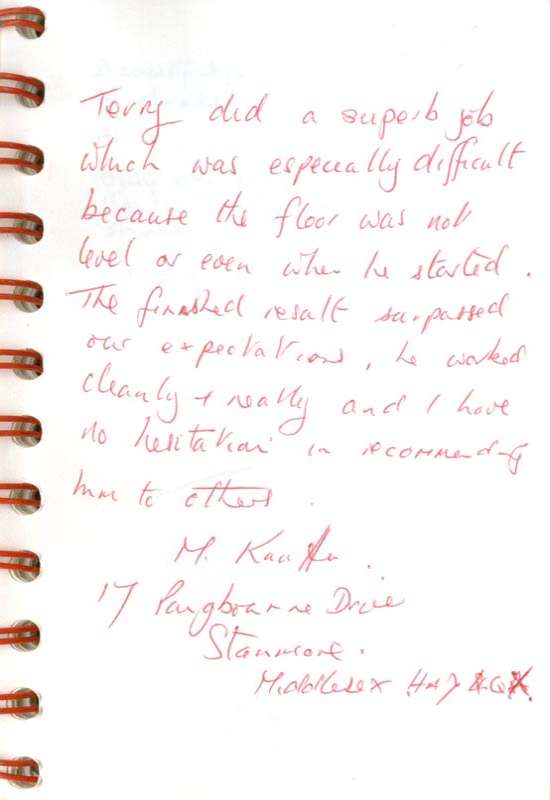 "Terry did a superb job which was especially difficult because the floor was not level or even when he started.
The finished result surpassed our expectations, he worked cleanly and neatly and I have no hesitation in recommending him to others."
M Kauffen
4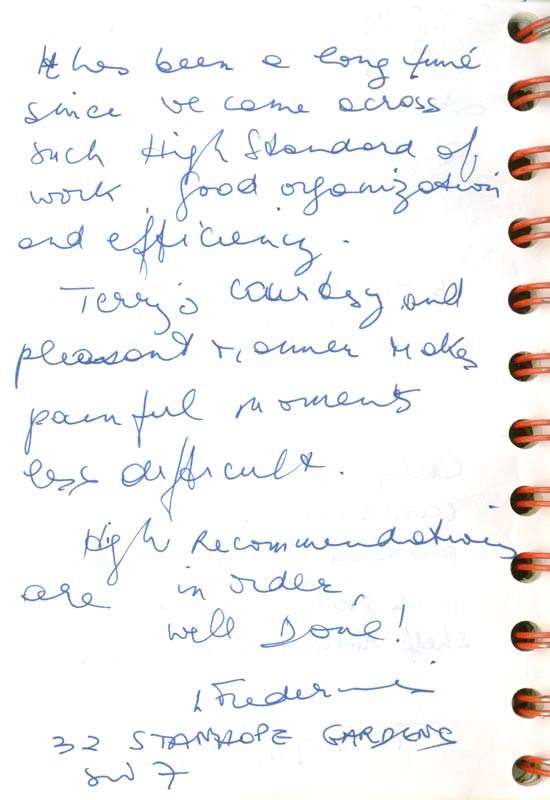 "It's been a long time since we came across such a high standard of work, good organization and efficiency.
Terry's courtesy and pleasant manner make painful moments less difficult.
High recommendations are in order. Well Done!"
L Fredericks
5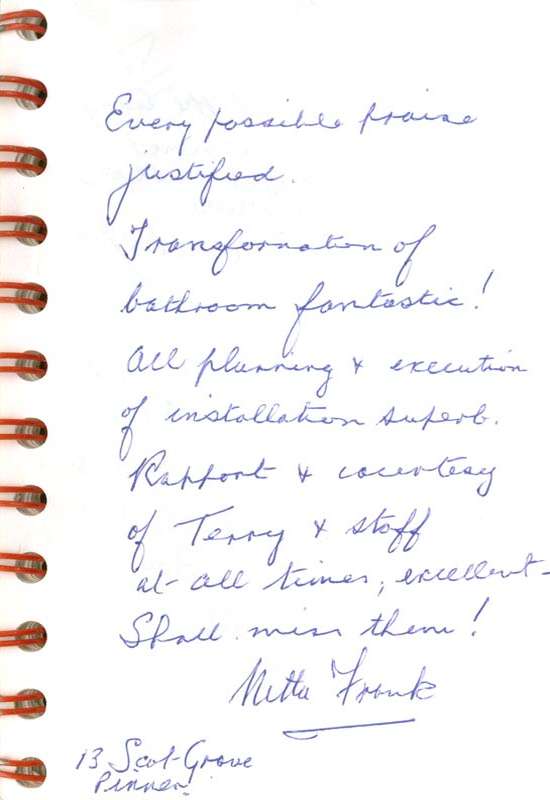 "Every possible praise justified.
Transformation of bathroom fantastic!
All planning and execution of installation superb.
Rapport and courtesy of Terry and Staff at all times excellent - shall miss them!"
N Frank
6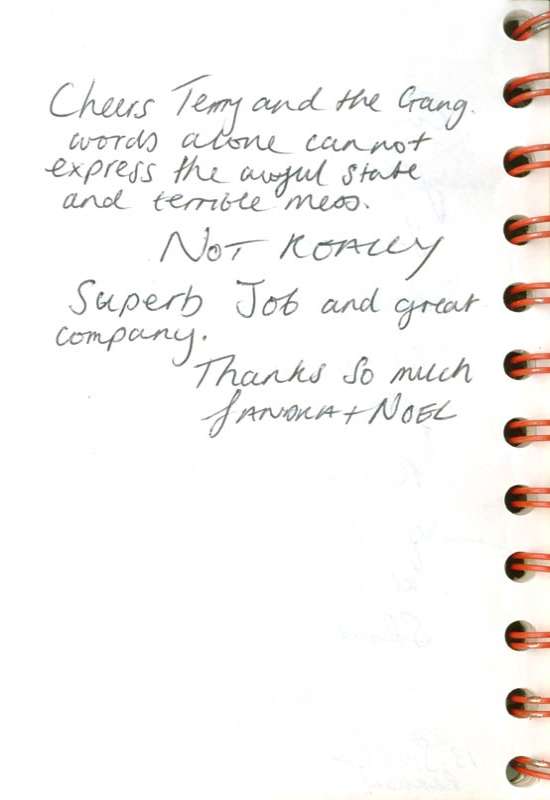 "Cheers Terry and the gang. Words alone cannot express the awful state and terrible mess.
NOT REALLY.
Superb job and great company. Thanks so much."
Sandra & Noel
7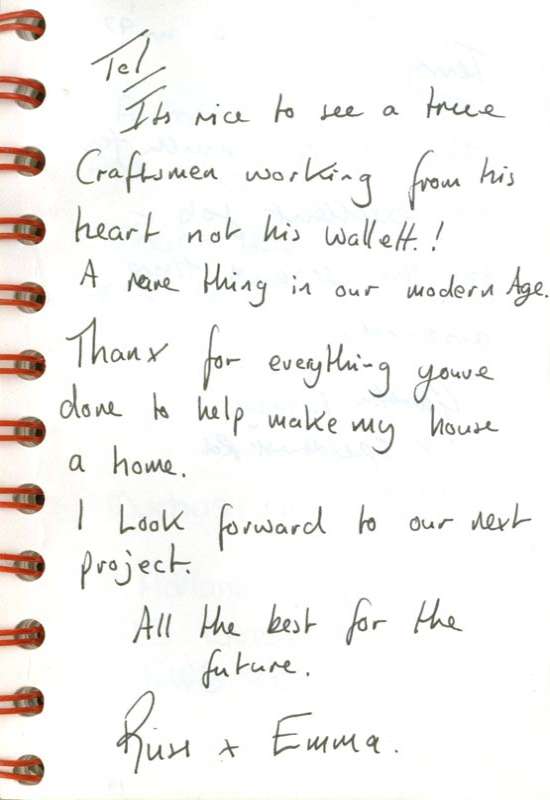 "It's nice to see a true craftsman working from heart not his wallet! A rare thing in our modern age.
Thanx for everything you've done to help make my house a home.
I look forward to our next project. All the best for the future."
Russ & Emma
8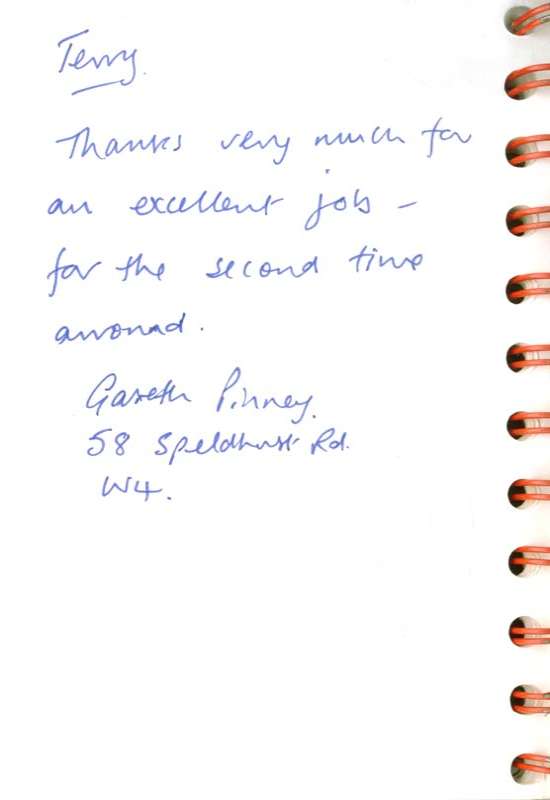 "Thanks very much for an excellent job - for the second time around."
Gareth Pinney
9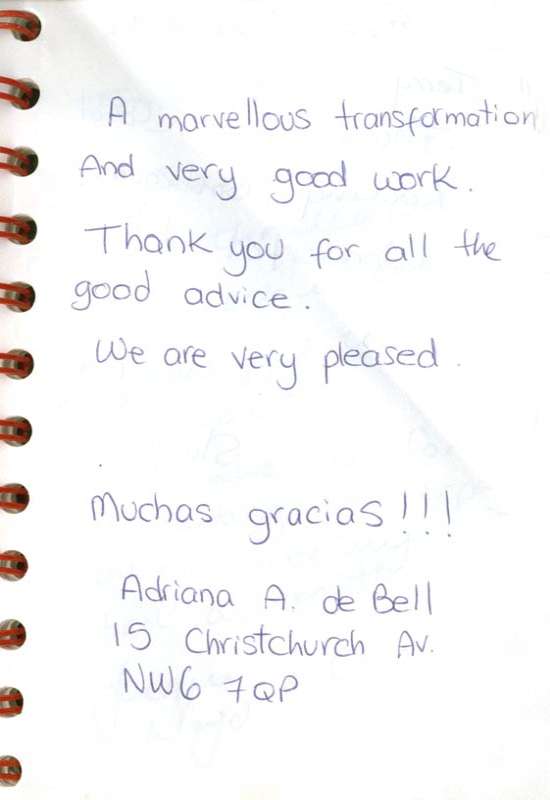 "A marvelous transformation! And very good work.
Thank you for all the good advice. We are very pleased.
Muchas Gracias!!!"
Adrianna A de Bell
10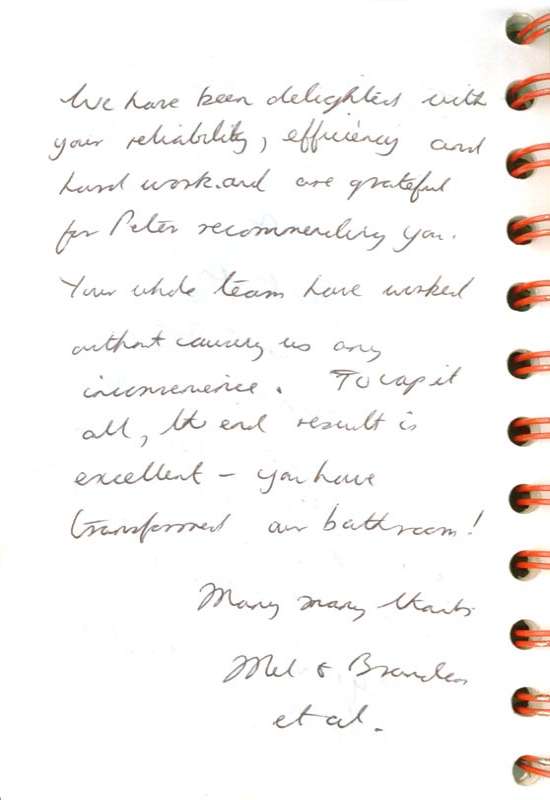 "We have been delighted with your reliability, efficiency and hard work, and are grateful for Peter recommending you.
Your whole team have worked without causing us any inconvenience. To cap it all, the end result is excellent - you have transformed our bathroom!"
Mel & Branden et al
11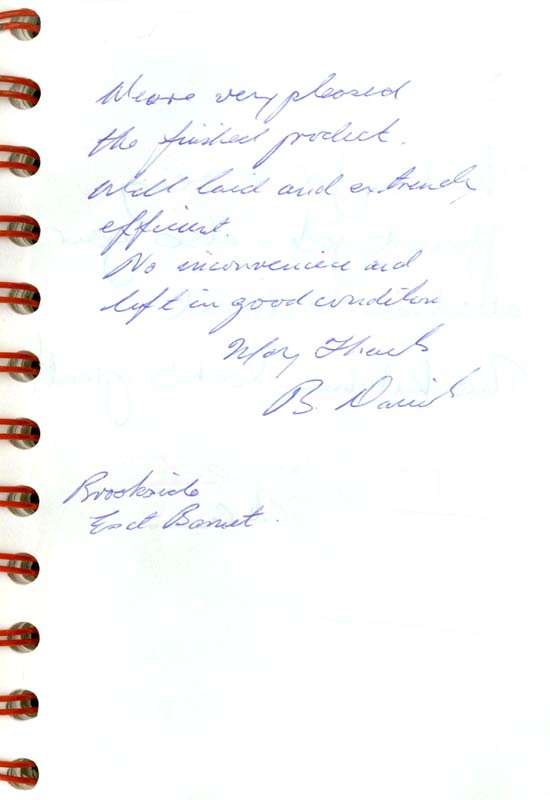 "We are very pleased the finished product well laid and extremely efficient.
No inconvenience and left in good condition."
B David
12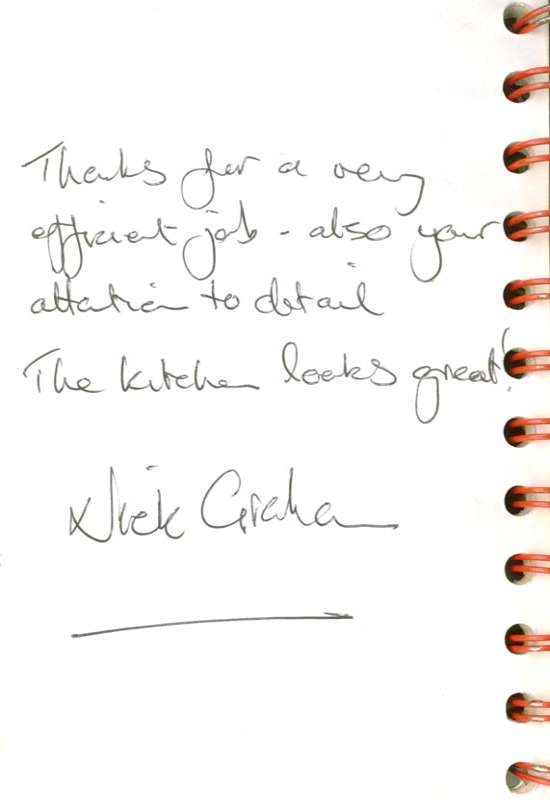 "Thanks for a very efficient job - also your attention to detail.
The kitchen looks great!"
Nick Graham
13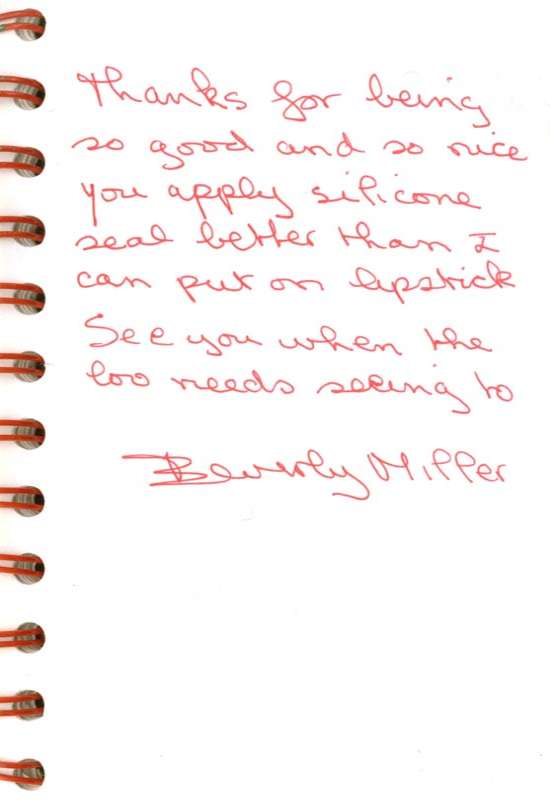 "Thanks for being so good and so nice. You apply silicone seal better than I put on lipstick.
See you when the loo needs seeing to."
Beverly Miffer
14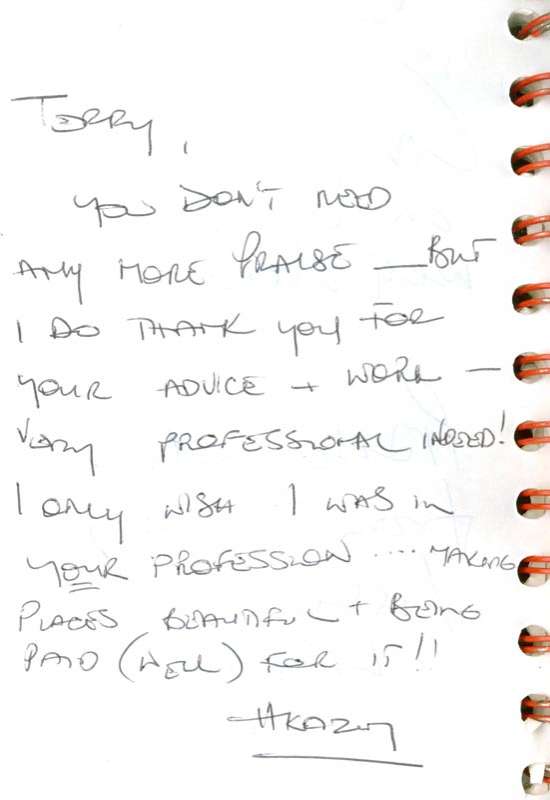 "Terry, you don't need any more praise - but I do thank you for your advice & work - very professional indeed!
I only wish I was in your profession ... making places beautiful and being paid (well) for it!!
No inconvenience and left in good condition."
H Kazy
15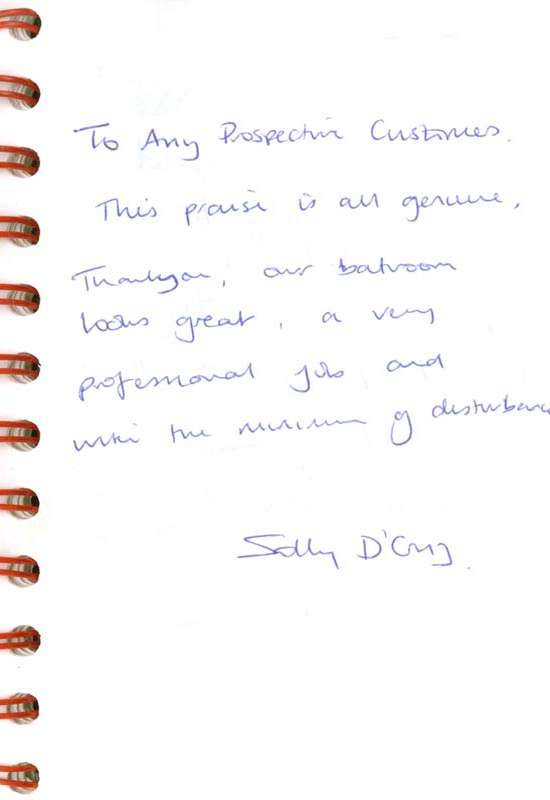 "To any prospective customers, this praise is all genuine.
Thank you, our bathroom looks great, a very professional job and with the minimum of disturbance."
Sally D'Cruz
16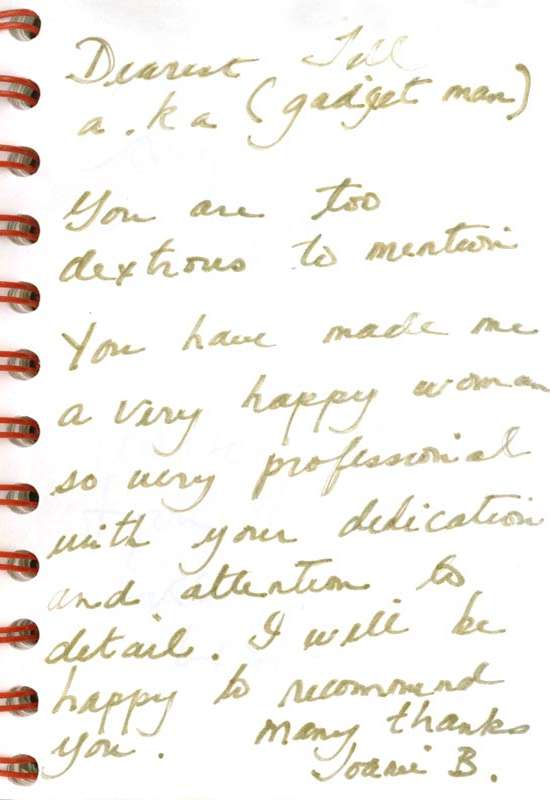 "Dearest Tell (aka gadget man)
You are too dextrous to mention.
You have made me a very happy woman, so very professional with your dedication and attention to details. I will be happy to recommend you. Many thanks."
Joanne B
17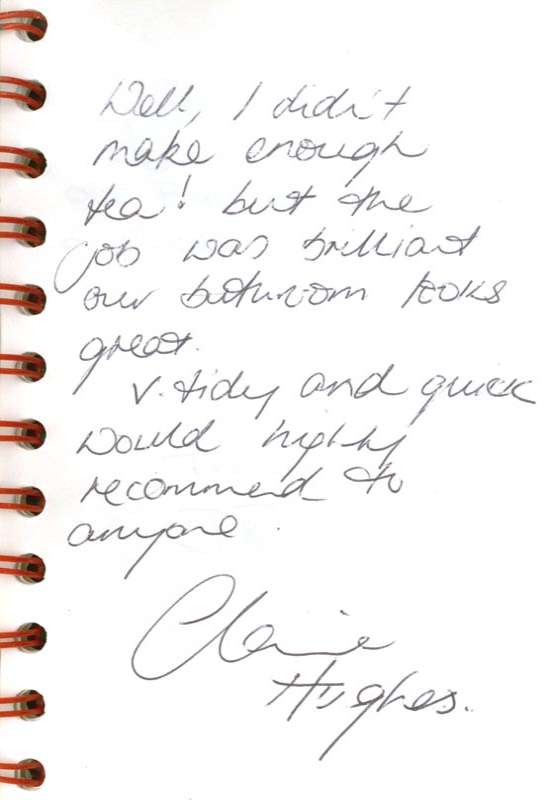 "Well I didn't make tea! But the job was brilliant, our bathroom looks great.
Very tidy and quick, would highly recommend to anyone"
Claire Hughes
18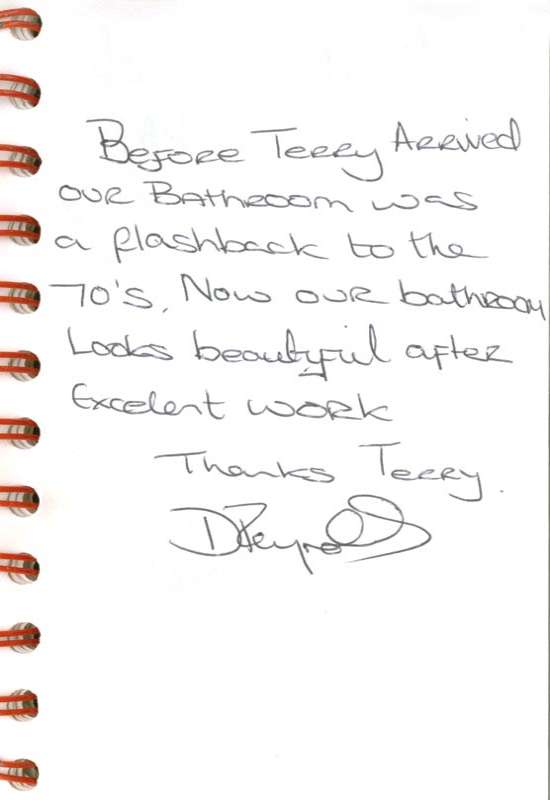 "Before Terry arrived our bathroom was a flashback to the 70's.
Now our bathroom looks beautiful after excellent work.
Thanks Terry."
D Reynolds
19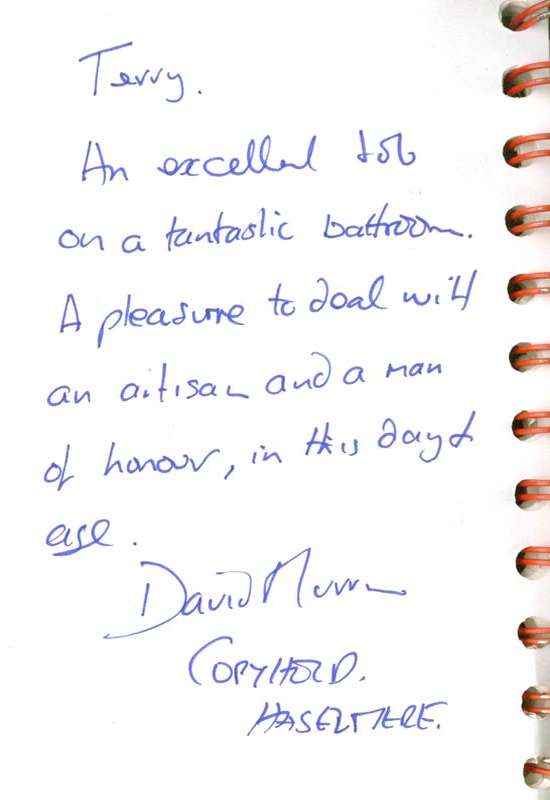 "Terry
An excellent job on a fantastic bathroom.
A pleasure to deal with an artisan and a man of honour, this day and age."
David M
20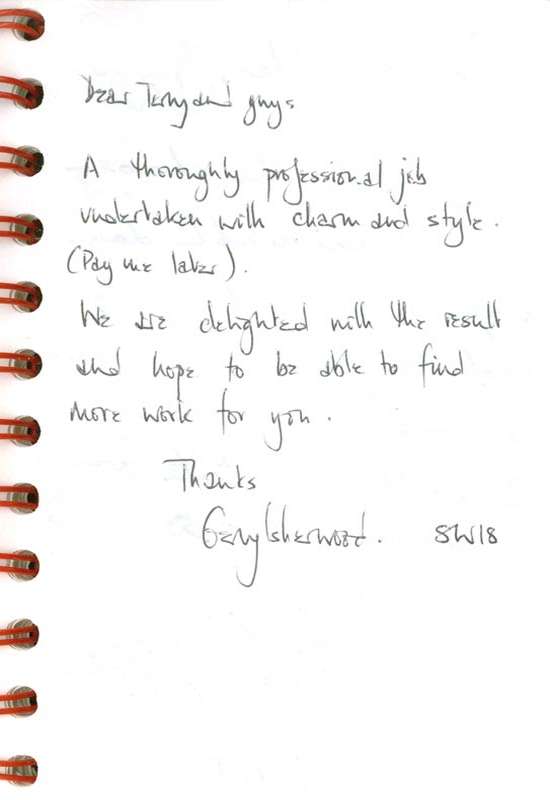 "Dear Terry and guys
A thoroughly professional job undertaken with charm and style (pay me later).
We are delighted with the result and hope to be able to find more work for you. Thanks."
Gary Isherwood
21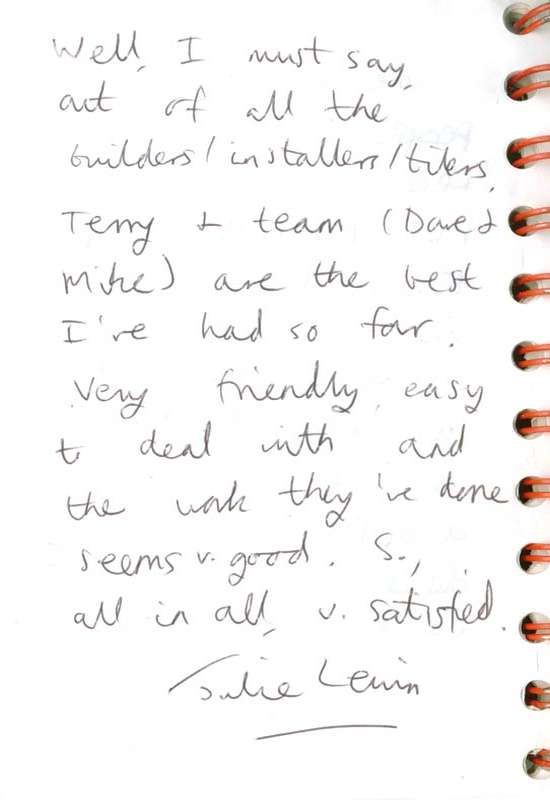 "Well, I must say out of all the builders / installers / tilers, Terry & team (Dave & Mike) are the best I've had so far.
Very friendly, easy to deal with and the work they've done seems v.good.
All in all v.satisfied."
Julie Lewis
22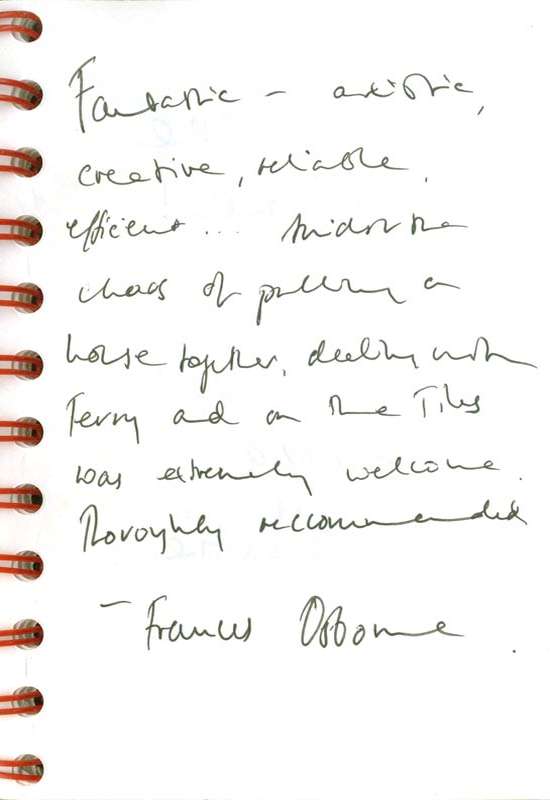 "Fantastic - artistic, creative, reliable, efficient.
Amidst the chaos of putting a house together, dealing with Terry and On The Tiles was extremely welcome. Thoroughly recommended."
Frances Osbourne
23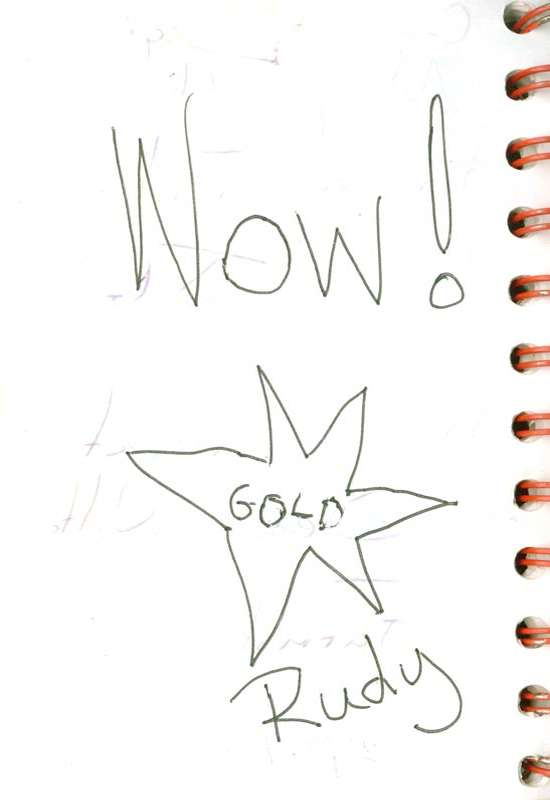 "Wow!
Gold Star"
Rudy
24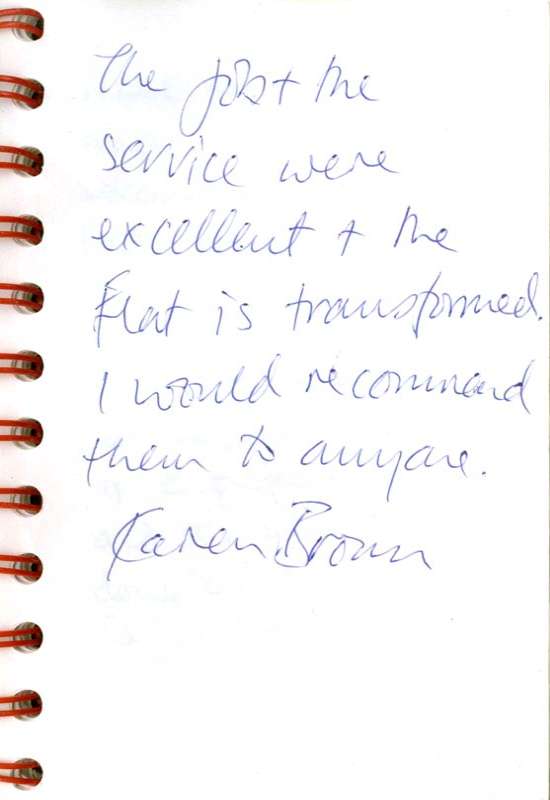 "The job and the service were excellent and the flat is transformed.
I would recommend them to anyone."
Karen Brown
25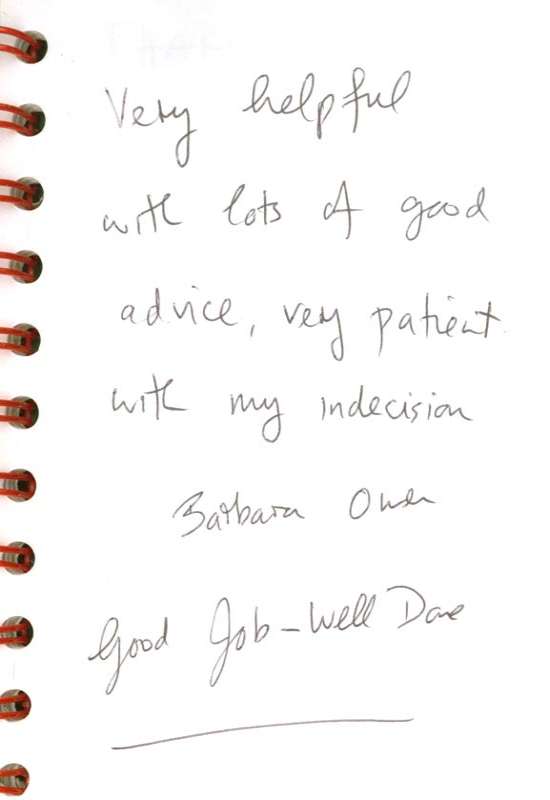 "Very helpful with lots of good advice, very patient with my indecision.
Good job - well done."
Barbara Owen
26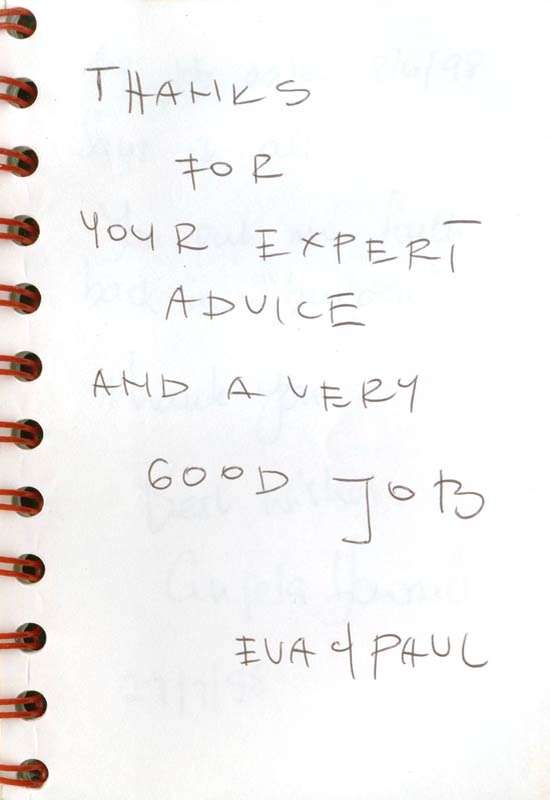 "Thanks for your expert advice and a very good job."
Eva & Paul
27

"Says it all.
You put my faith back in 'builders'.
Thank you."
Angela Howard
28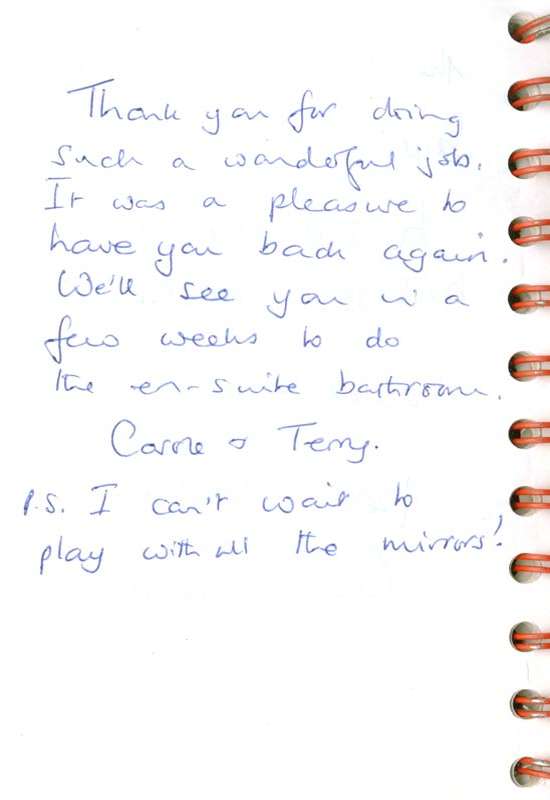 "Thank you for doing such a wonderful job. It was a pleasure to have you back again. We'll see you in a few weeks to do the en-suite bathroom.
P.S. I can't wait to play with all the mirrors!"
Carole & Terry
29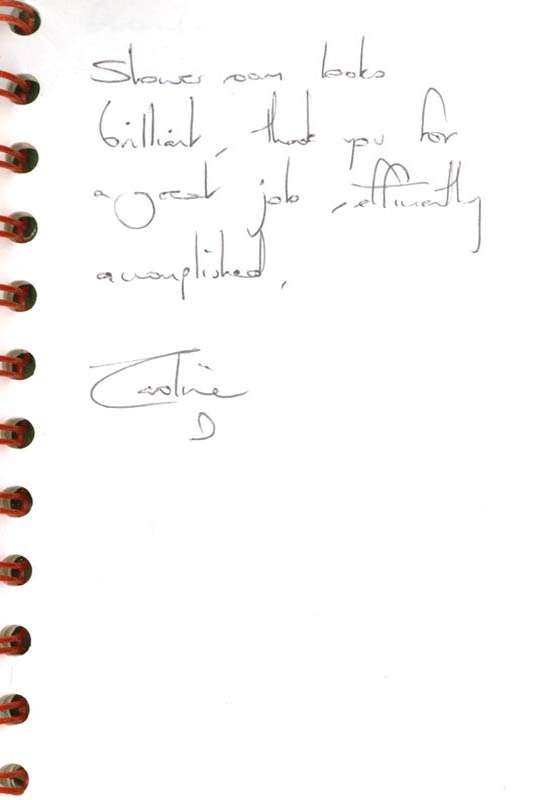 "Shower room looks brilliant, thank you for a great job, efficiently accomplished."
Caroline D
30

"Terry & Co - a difficult task.
Easy to say thank you - we appreciate all your efforts & smiling faces - professionalism to the core.
So, thank you for helping us create our new home. We will not forget you!"
Piet, Heather, Christian & Max
31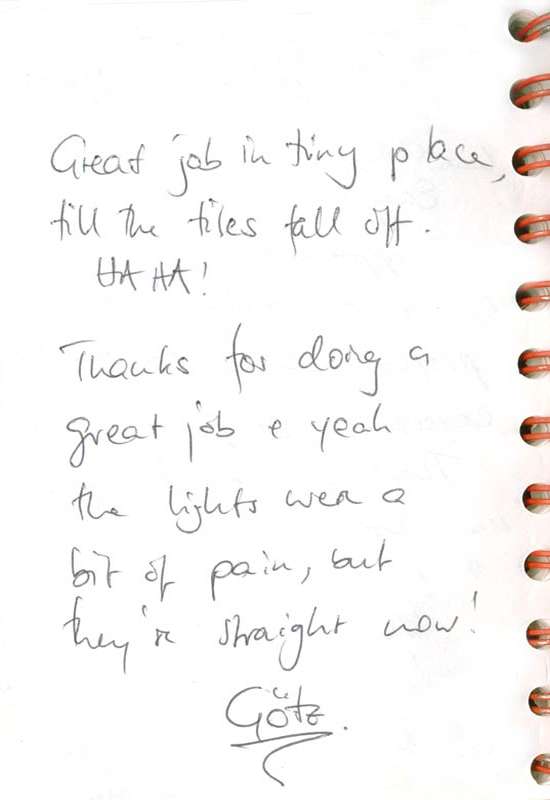 "Great job in a tiny place, till the tiles fall off. HA HA!
Thanks for doing a great job & yeah the lights were a bit of a pain, but they're straight now!"
Gote
32

"Terry, You did a brilliant job - we're thrilled and will now recommend you to all our friends.
Thanks again to you and your team."
Paul & Caroline Nailor
33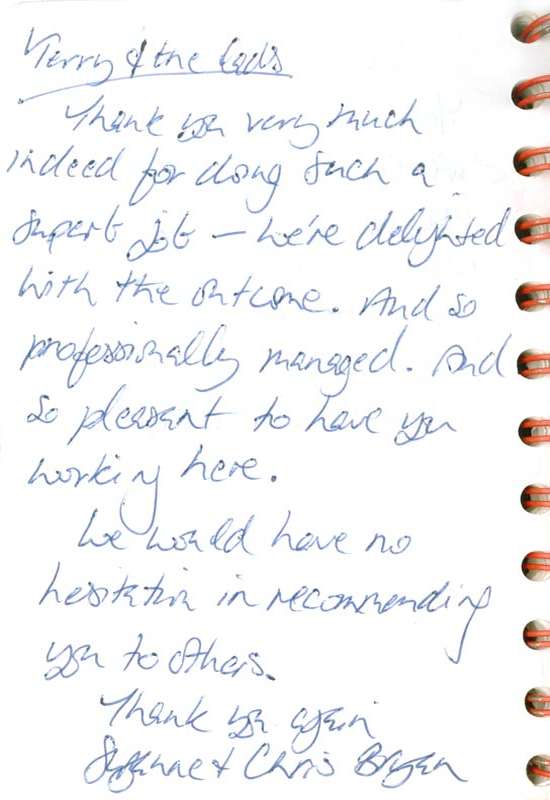 "Terry & the lads
Thank you very much indeed for doing such a superb job - we're delighted with the outcome. And so professionally managed. And so pleasant to have you working here
We have no hesitation in recommending you to others. Thank you again."
Suzanne & Chris Brogan
34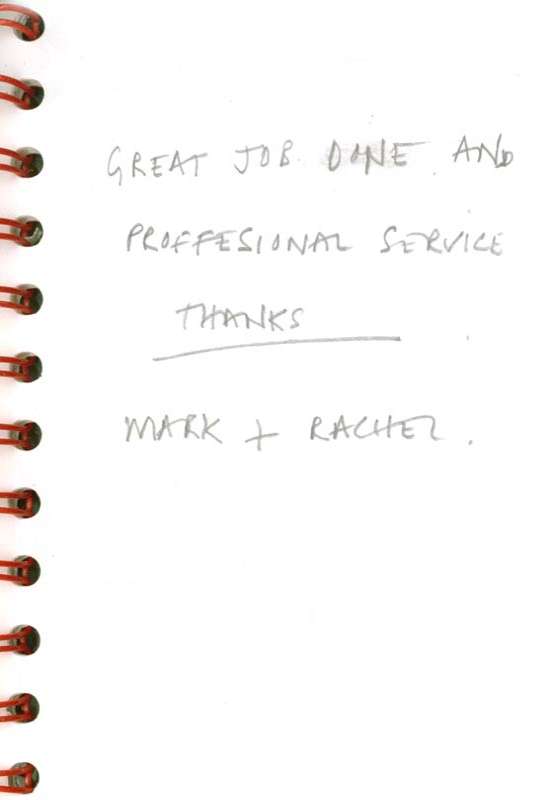 "Great job done and professional service. Thanks."
Mark & Rachel
35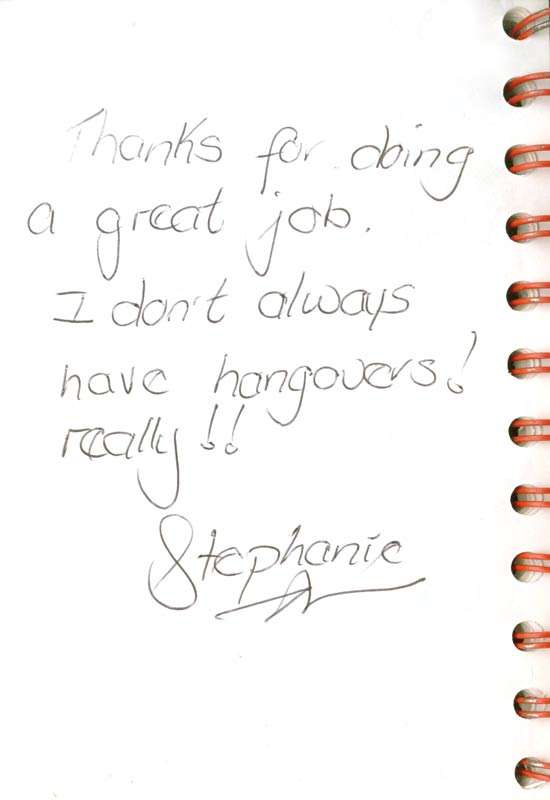 "Thanks for doing a great job.
I don't always have hangovers really!!"
Stephanie
36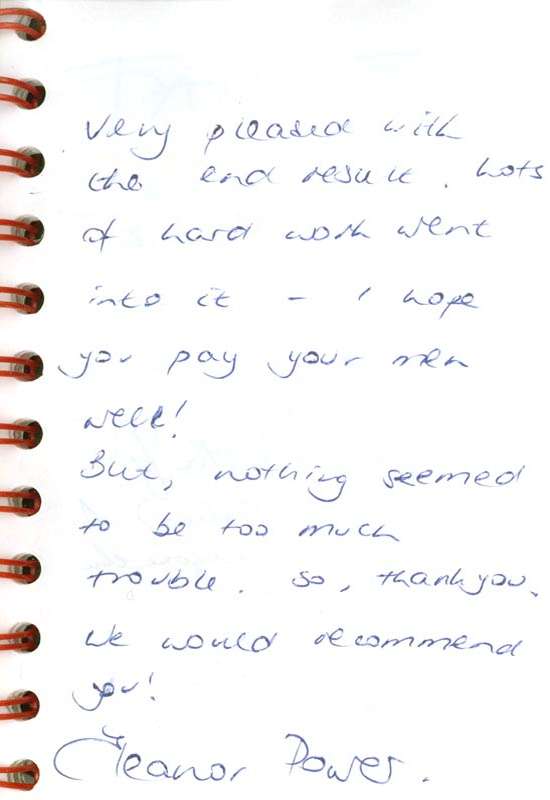 "Very pleased with the end result. Lots of hard work went into it - I hope you pay your men well!
But nothing seemed to be too much trouble. So thank you, we would recommend you!"
Eleanor Power
37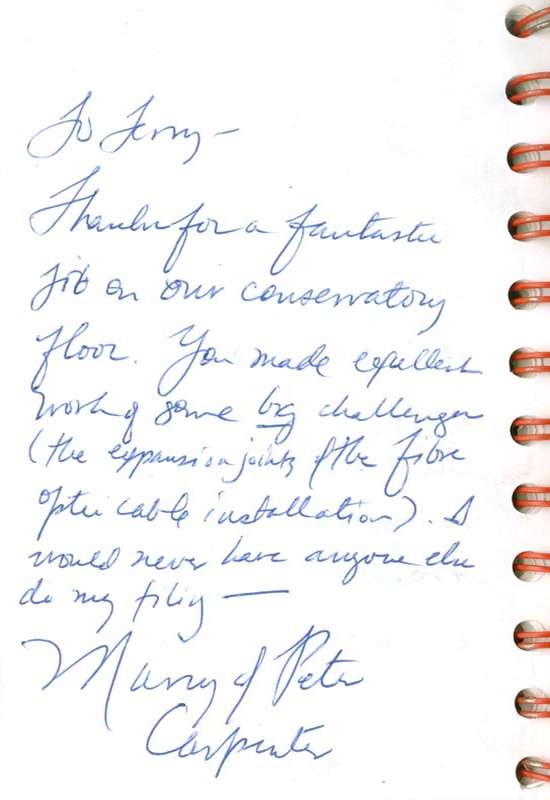 "To Terry - Thank you for a fantastic job on our conservatory floor. You made excellent work of some big challenges (the expansion joints of the fibre optic cable installation).
I would never have anyone else do my tiling."
Mary & Peter Carpenter
38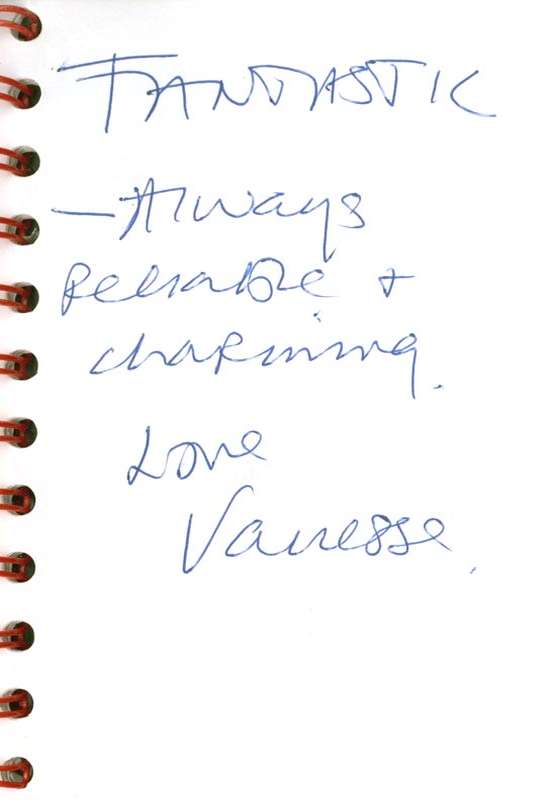 FANTASTIC
Always reliable & charming.
Love
Vanessa
39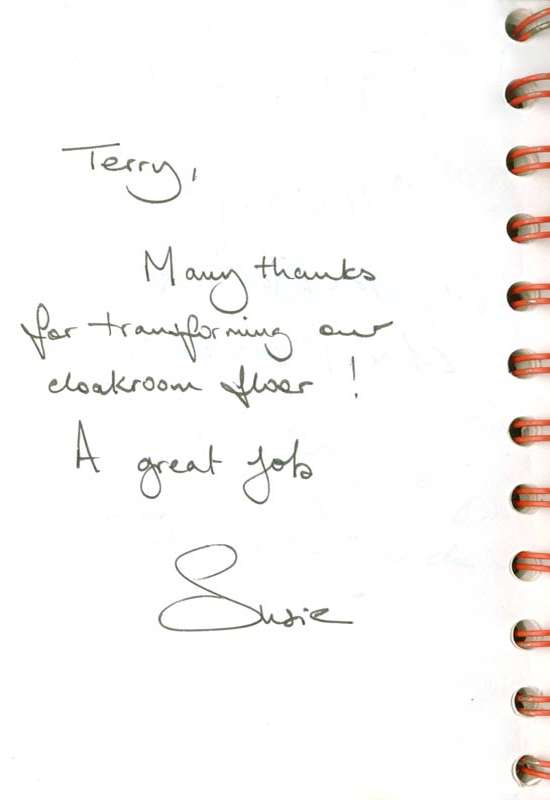 "Terry, many thanks for transforming our cloakroom floor!
A great job."
Susie
40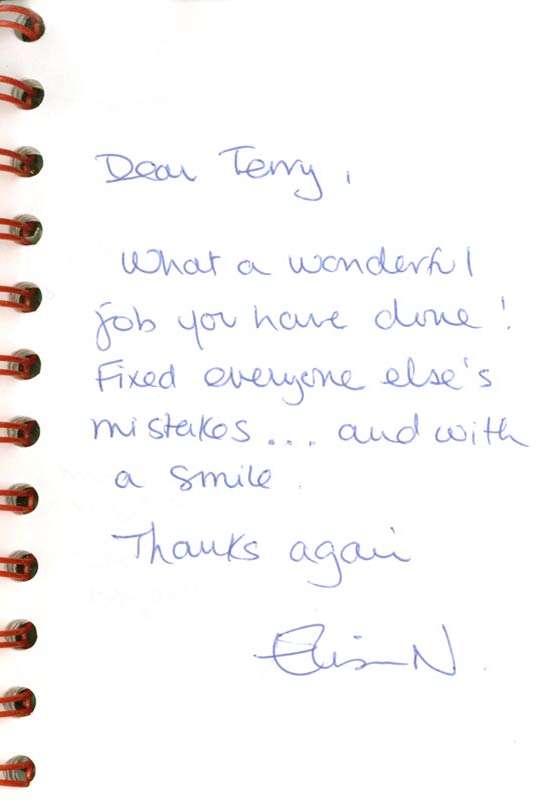 "Dear terry, what a wonderful job you have done!
Fixed everyone else's mistakes ... and with a smile. Thanks again."
Elisa N
41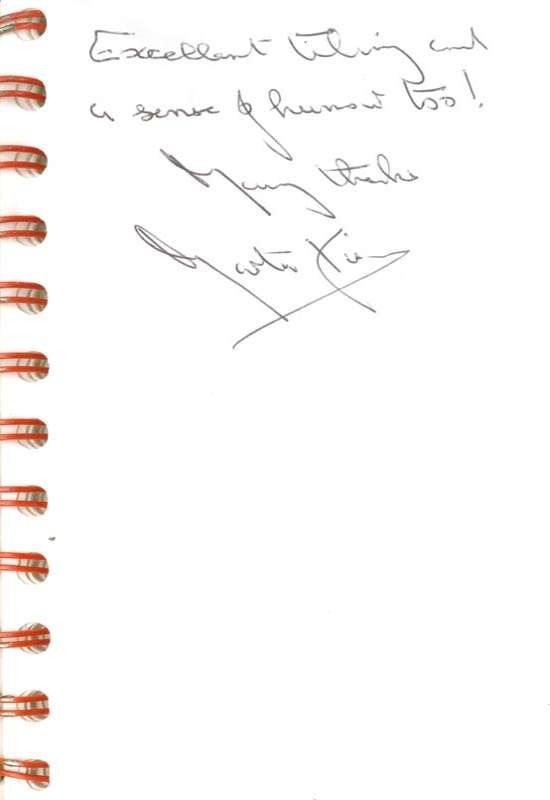 "Excellent tiling and a sense of humour too! Many thanks."
Martin King
42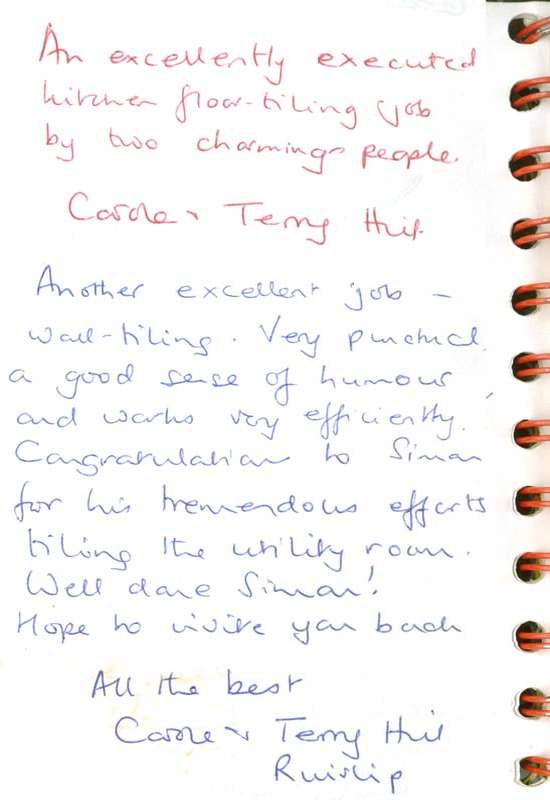 "An excellently executed kitchen floor tiling job by two charming people.
Another excellent job - wall tiling. Very punctual, a good sense of humour and works very efficiently. Congratulations to Simon for his tremendous efforts tiling the utility room. Well done Simon!
Hope to invite you back."
Carole & Terry Hill
43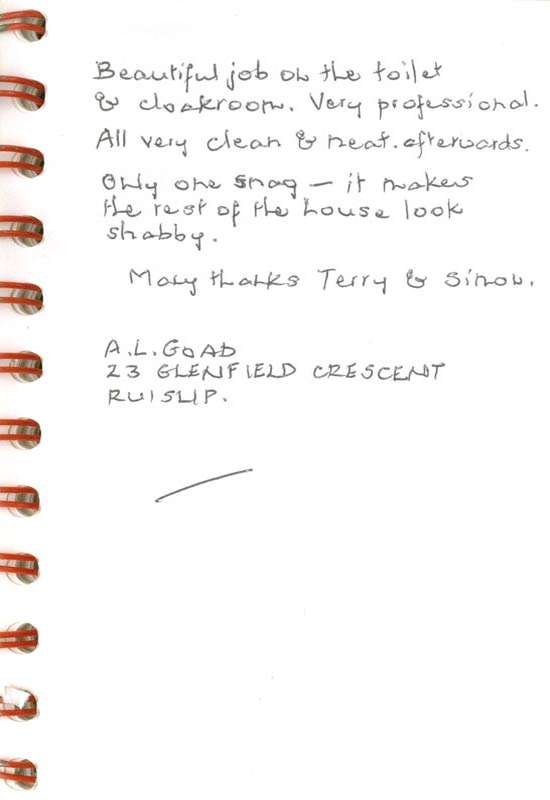 "Beautiful job on the toilet & cloakroom. very professional. All very clean and neat afterwards.
Only one snag - it makes the rest of the house look shabby. Many thanks Terry & Simon."
A L Goad
44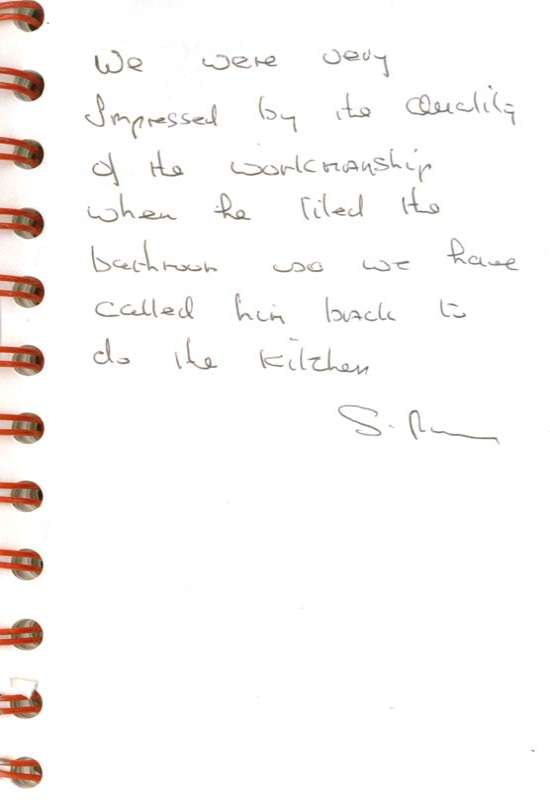 "We were very impressed by the quality of the workmanship when he tiled the bathroom so we called him back to do the kitchen."
S Phillips
45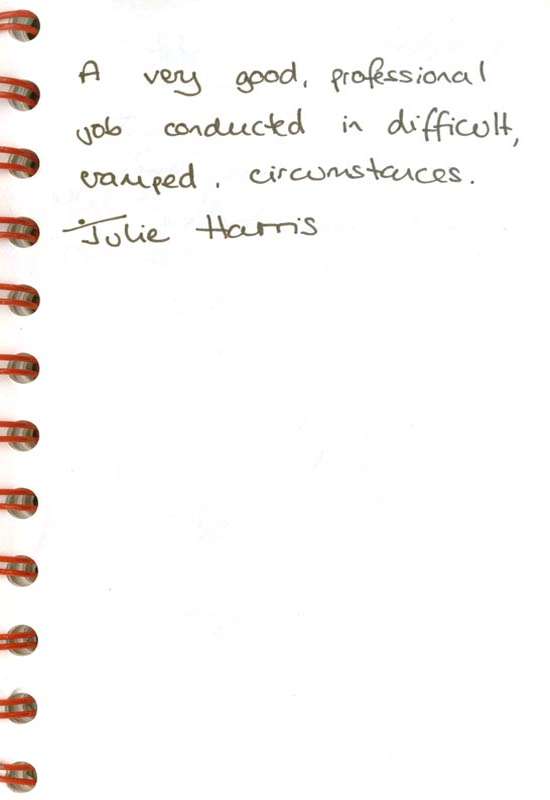 "A very good, professional job conducted in difficult, cramped circumstances."
Julie Harris
46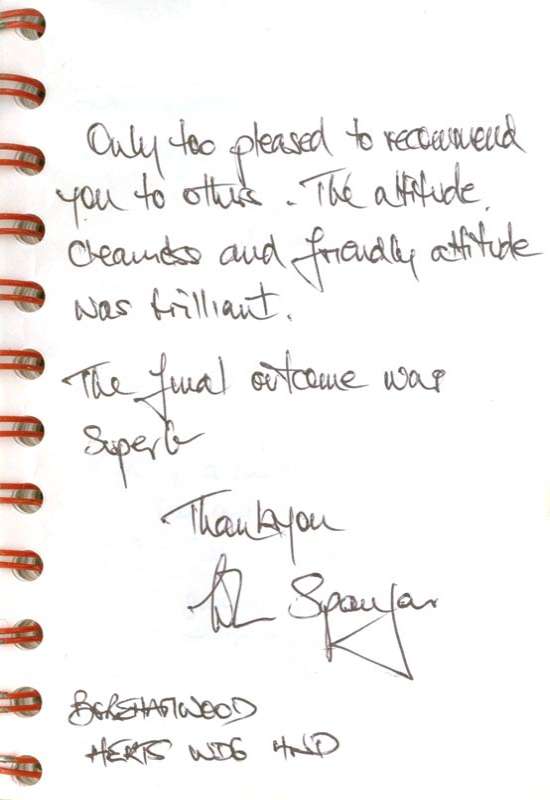 "Only too pleased to recommend you to others. The attitude, cleanness and friendly attitude was brilliant.
The final outcome was superb. Thank you."
L Spaufar
47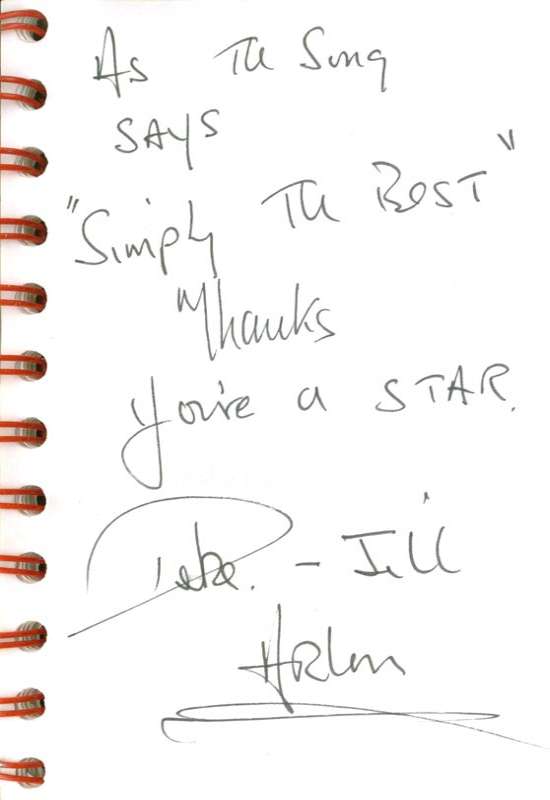 "As the song says
"Simply The Best"
Thanks you're a STAR."
Jill
48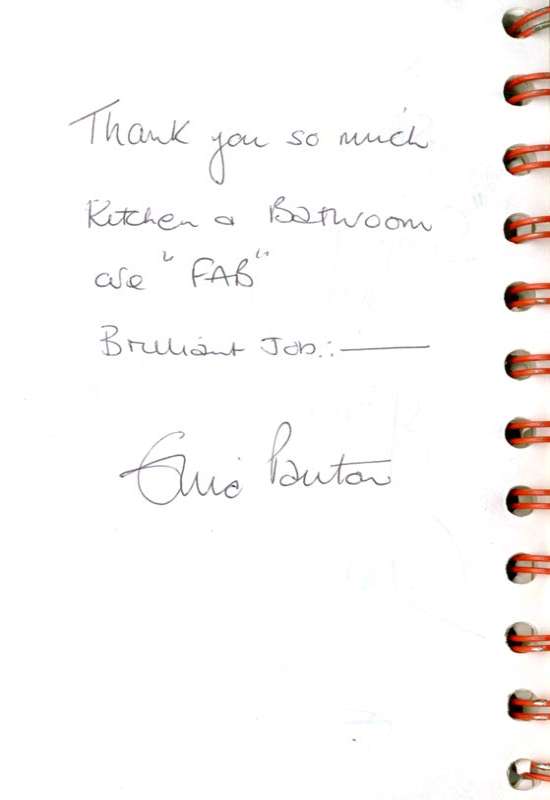 "Thank you so much. Kitchen & bathroom are 'FAB'.
Brilliant job."
E Pauton
49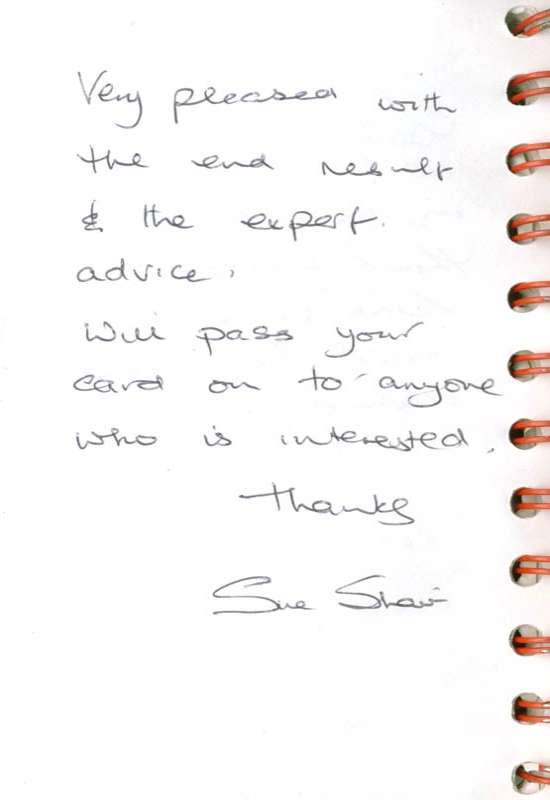 "Very pleased with the end result & the expert advice.
Will pass your card on to anyone who is interested. Thanks."
Sue Shaw
50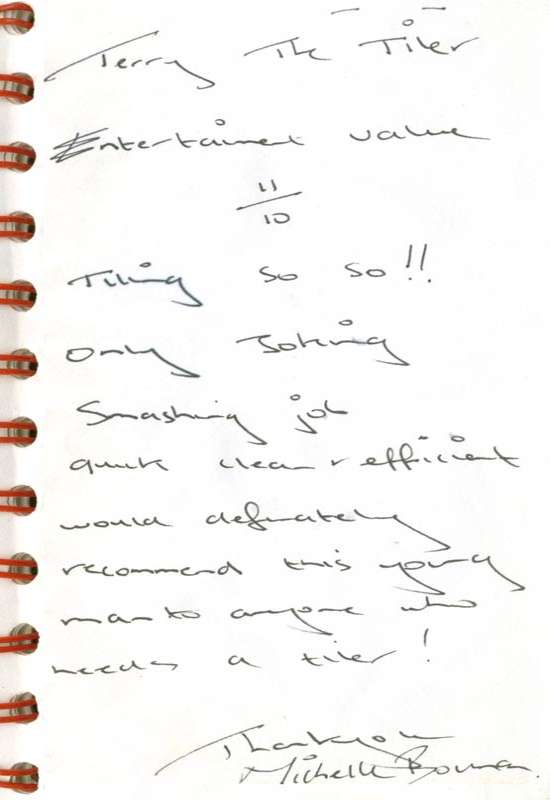 "Terry The Tiler
Entertainment value 11/10. Tiling so so!!
Only joking.
Smashing job, quick clean & efficient would definitely recommend this young man to anyone who needs a tiler! Thank you."
Michelle Bowman